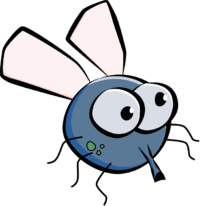 There's this great video called "The Fly," maybe you've seen it? It's an anime-style video of a samurai sitting in meditation (you can easily find it on youtube.com if you're curious). With solemn dignity, this samurai takes his seat and closes his eyes… and before long, he begins to hear the buzzing of a fly. This fly is not what he had in mind! Irritated, the samurai begins swatting at the fly, but the buzzing just continues. And grows. He keeps swatting. Eventually, he draws out his sword and is in full-on-warrior battle with the fly. The more he swings the sword and fights, the more flies arise and the bigger the irritation grows. Finally, discouraged and defeated, the samurai drops the fight entirely. He nods his head in acceptance as if to say, in the words of Tara Brach, "yes, this too, even this." And that's when the magic happens.
In allowing things to be just as they are, the experience of those very things change.
Suddenly, it's as if the flies have become flower petals raining down upon the samurai. It's a nice story, not because it ends in flower petals, but because it illustrates how our "not liking" can bring on resistance; which often only serves to make things more painful for us. If, however, we can allow things to be as they are – because, let's face it, they already are that way – we can navigate through difficult situations without increasing our distress about them. The desire to rid ourselves of whatever is bothering us is a completely normal response to human life. In fact, it's part of our hardwiring, and it's helped us to survive as a species. But most of the time, in our lives, survival isn't actually in question, so the resistance-hardwiring that we've developed through millennia isn't helpful. It just feeds our stress response. As Rick Hansen often reminds us, "We're wired for survival, not for happiness."
When we slow down, and pay attention, it's easy to see how prevalent this way of being is in our own lives…
How we try to avoid uncomfortable emotions like sadness and anxiety, loneliness and shame. How we try to avoid physical sensations like hunger, knee pain and itchiness. When we practice being with sensations and experiences that create resistance in us, we grow our ability to be with discomfort. And when we allow ourselves to meet everything that arises in life with some equanimity, even just a little bit, then we have more space and composure to take meaningful action in uncomfortable situations… instead of just living in reactivity and fear (which often only serve to make things worse).
I actually had a very similar fly experience. I was sitting a retreat. I entered the hall, bowed, made my way to a cushion and took my seat. Before long, I could feel a fly had landed on my cheek. Without even being aware of what I was doing, I reflexively waved it away. I didn't want the fly to interfere with my "real work." But of course, it came back (as flies do) and not surprisingly, I swatted it away again (as people do). This time I had the added thought that the fly should go bother someone else in the room. Well, being that compassion is a core value of mine, having this thought activated a sense of shame in me, for wishing discomfort on someone else in order to spare myself. I sat with this for a moment.
And suddenly, I had the realization that this detour, this unexpected complication, was the real work.
The distracting fly and everything that came up for me around it was the work – and I was disappointed to have missed the opportunity! Then, the bell rang, which signaled the beginning of the meditation. I was delighted – I hadn't "failed" after all, that was only "pre-meditation" and now I had a chance to really practice, as if there's truly any distinction between what happens when we sit still and when we go about the business of our lives! I had to chuckle at the silliness of my own mind. And… not surprisingly, the fly came back.
But this time I allowed it. I opened to the experience.
I could feel the sensations on my face as it walked around my left cheek. I became curious about the sensation. It fell somewhere between tingly and itchy. I watched my reaction – a tightening, an urge to be rid of it. And through it all, I held my seat. I sat still and practiced allowing things to be as they are. Allowing this fly to walk across my face. After all, it was just a fly. I wasn't in any danger, I just didn't like it; and moving from "not liking" to allowing, I could feel my body relax. There was more ease and opening.
Released now from my reactivity around the fly I asked myself, as I'd been instructed to do, "What else is here?" I found a few things, including a well of sadness. Opening to that too, I again asked myself, "what else is here?"
To my surprise and delight, what arose was, "The fly! The fly is also here with me." It felt as if I had a friend, I wasn't alone. It was me and the fly. And also the sadness. And also delight at my realizing the interconnectedness of all beings. All sitting together, for this moment anyway. I realized that we're never truly alone, we just can't feel the interconnectedness sometimes. We just forget.
And to think, I'd twice tried to avoid the company.
© Michelle Becker, WiseCompassion.com