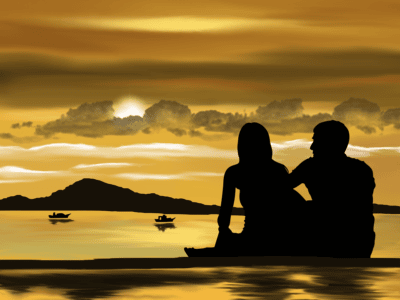 As a couples' therapist, I understand the power of connection, and how relationships support and nourish us. From the safe space of a caring, supportive relationship, we can risk growing into our full potential. We can bear our failures and our losses, celebrate our strengths and successes, build families and achieve our goals. We can open more fully to love and loss when we develop these healthy relationships. Needless to say, the tenor of our primary relationships has a considerable impact on the quality of our lives.
In my personal life, I've known for quite a while that, at the heart of things, I'm really a matchmaker. Not in the traditional romantic sense, though I would be equally delighted to help people find love. Rather, I'm a matchmaker in the sense of connecting people who would mutually benefit from knowing each other. In my work, I also love to connect ideas – for example, an idea from one program that combines beautifully with the curricula from another program. This type of idea-matchmaking has recently manifested in the new Compassion for Couples program.
This unique program combines two different passions of mine. The first is teaching compassion. I'm a certified Compassion Cultivation Training (CCT) teacher, and a senior Mindful Self-Compassion (MSC) teacher, trainer and mentor. I am steeped in the art of compassion training, both toward ourselves and toward others. The second is my passion for relationships. I am a licensed Marriage and Family Therapist, and I chose this particular license because of its focus on relationships. My colleague, Cassondra Graff, and I have done some innovative work with couples who are really struggling. Together we've explored the application of mindfulness in these kinds of relationships.
As a compassion teacher I understand the value of skills training. Teaching mindfulness and compassion skills is different from psychotherapy. We aren't trying to heal anything – no delving into past or present issues – we're simply learning to meet ourselves and others with the resources and acceptance we need. The paradox is that finally learning how to skillfully relate to ourselves and to others can actually be very healing. And it certainly sets us up to be healthier, happier and more successful in all our relationships.
In 2016, I was in the midst of co-teaching an MSC Teacher Training, sitting at a table with several people who were interested in integrating MSC into couples work. It occurred to me that I could take the MSC curriculum and modify it to use with couples; to teach couples how to develop and utilize mindfulness and compassion skills to support themselves and each other. We can actually train in how to create relationships characterized by a warm, connected presence. With the blessing of Chris Germer and Kristin Neff, founders of MSC, and the support of colleagues (particularly my work with Sean Cook, who helped refine the structure of the program), I developed a program for couples, called Compassion for Couples (CfC).
In the MSC program, one exercise we do helps us find ways to motivate ourselves to change a particular behavior, doing so from a place of self-compassion rather than a place of self-criticism. In the CfC program, we work on compassionate communication; on how to speak and listen to each other compassionately. So in CfC, the exercise is focused on speaking to our partner from a place of compassion, rather than our habitual place, where criticism can so easily creep in. Speaking from a place that is rooted in compassion (for ourselves and our partner) is much more likely to be well received. And we're more likely to come away feeling good about our approach, feeling more connected, and less like we need to apologize. CfC helps us develop skills of mindfulness and compassion for ourselves and our partners. Those very skills can make all the difference in the quality of our relationships.
For more information about upcoming CfC events and programs, please visit our website at CompassionforCouples.com.