In this recent Better Homes & Garden's article ("Just Chill"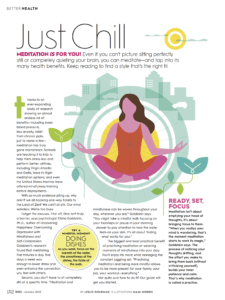 from the October 2016 issue), I defined mindfulness as, "accepting our feelings and thoughts as they are." This sounds simple but it isn't often easy, and different meditation styles work better for different people. Every style of meditation involves choosing a focal point — perhaps your breath, a mantra, a mental picture — and when your mind inevitably wanders, just gently guiding it back. The key for each of us is finding the style (or styles) that works best. In this piece, you'll find a brief description of four types: Mindful meditation, mantra meditation, walking meditation, and guided meditation.
The latest science continues to confirm that even just a few minutes a day of meditation can unlock serious health benefits, including lower blood pressure, reduced anxiety and relief from chronic pain.
Keep reading to learn more about the many ways you can tap into the benefits of meditation and find the style that works best for you!